Tetrahedral amorphous carbon (ta-C) is an industrially useful diamond-like material due to their extreme hardness, low friction co-efficient, chemical inertness and electrical resistivity.
Plasma Technology Limited PTL has successfully used filtered cathodic vacuum arc FCVA coating system to fabricate ta-C coating on various substrates with thickness of 0.1 micron to more than 5 microns. The ta-C film obtained by PTL has a tetrahedral bonding (sp3) fraction as high as 70 - 85%. The hardness of ta-C coating is higher than 50GPa. It also possesses low friction coefficient of ~0.1 and extremely low wear rate of < 1.5x10e-7 mm3/m-N under 10N normal loading force. It also shows Grade HF1 adhesion for the coating to substrate when subjected for Rockwell test.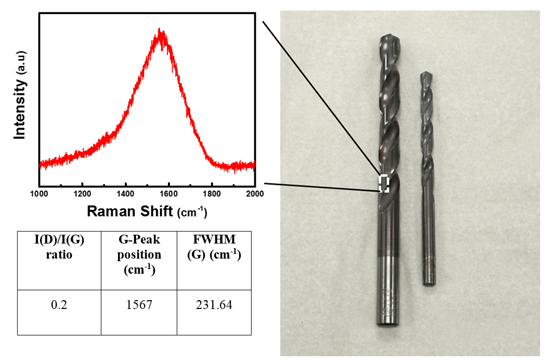 The system is suitable for R&D and batch process for ta-C coating.
-Equipped with 4 sets of FCVA sources
-Equipped with a DC/Pulse substrate bias power supply
-Chamber: ~F500 mm x 450 mm, double-wall water cooled stainless steel
-1 set of pumping system with throttle valve, gate valve, roughing valve, foreline valve, turbomolecular pump and backing pump
-1 set of vacuum measurement system with 1 ion gauge and 2 pirani gauges
-2 sets of mass flow controllers MFC
-Touch Screen PLC computer control for manual/auto pumping and process