Atomic Layer Deposition ALD System / Machine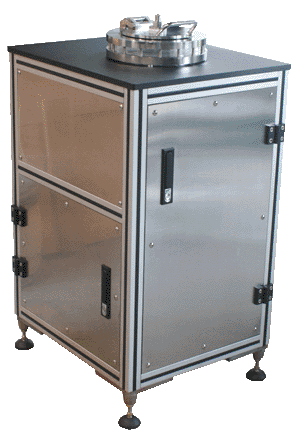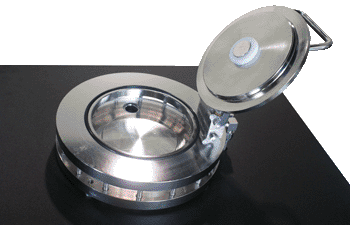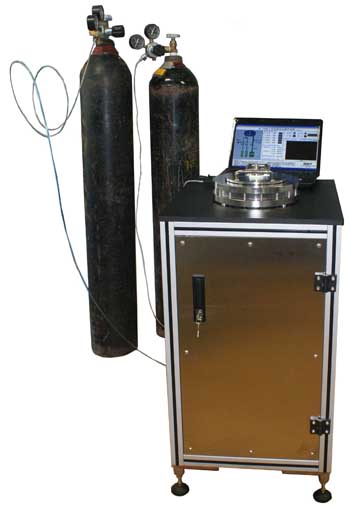 Atomic layer deposition ALD is a deposition method by which gaseous vapors are alternatively pulsed into a vacuum chamber. When these vapors are introduced onto a substrate surface, chemi-sorption takes place. These surface reactions are self-limited, which results in a atomic layer-by-layer growth mode. ALD has emerged as an important and popular technique for the deposition of ultra-thin films and nanocoatings for various applications. The advantages of ALD method include: precise thickness control at mono-layer level, high conformality, low vacuum level, versatile substrate temperature range etc. Due to its unique characteristics, ALD can realize uniform nanocoatings on high aspect-ratio objects. Recently, ALD has attracted great attention in the research of nanotechnology.
Technical Specifications of PEALD
1. Vacuum Chamber
1) The outside and reaction chamber are made of 316L stainless steel and anodic aluminum oxide respectively, no weld joint for reaction chamber then guarantee less than 5*10e-7 PaL/s leakage.
2) Suitable to Max. 8 inch substrate.
3) The substrate stage can be heated to 400 degree C with +/-1 degree C uniformity.
4) The outside chamber can be heated to 200 degree C with +/-1 degree C uniformity.
5) Pressure range of the reaction chamber: 1 ~ 1*10e5 Pa
6) Ultimate pressure: 1Pa
7) High temperature compatible seal to prevent leakage of the useless gases.
8) Individual inlet for chemical precursor and plasma process gases.
2. The Design of Chemical Source Lines
1) Equipped with six chemical source lines, all of them will be heated.
2) Equipped with designed Swagelok's source lines with automatic cleaning ability.
3) Equipped with individual Swagelok ALD diaphragm valve, manual valve and 50ml chemical source bottle for every source line.
4) Every source line valve can be heated up to 200 degree C and with +/-1 degree C uniformity individually.
5) Equipped with heating and heat preservation system for the whole source line, the temperature range is from RT to 200 degree C and with+/-1 degree C uniformity.
6) All of the process gases lines are made of electro-polishing stainless steel and with VCR sealing, the line is compatible with in-situ cleaning function.
3. Vacuum Control System
1) Equipped with well-known vacuum pump, the pumping speed >=90m3/h and based pressure 0.5*10e-3 Torr.
2) Well-known brand vacuum gauge suit to 1000 ~2.3*10e-4 Torr.
3) Equipped with individual heating and heat preservation system for pumping line, the temperature range is from RT to 150 degree C and with +/-1 degree C uniformity.
4. Plasma Enhanced System
1) Optional equipped with the CCP or remote ICP plasma unit to realize the plasma enhanced atomic layer deposition (PEALD) function.
2) Provided at least two (optional four, included one Ar) gas lines for plasma process, every line equipped with Swagelok ALD diaphragm valve, manual valve and imported MFC.
3) Commercial RF plasma generator with 13.56MHz RF frequency and adjustable 0-300W power. Automatic matching network is included.
5. Ozone Generator System
1) Optional provided Ozone generator with 10g/h output and 80-100mg/L concentration, equipped MFC with 0-500sccm capability to control the O3 flow.
2) Ozone destroyer, clean line and some necessary spare parts are included.
Features:
l Precise thickness control at Angstrom or monolayer level;
l Excellent step coverage for high aspect-ratio 3D objects, i.e. nano tube, nano fiber, nano pore arrays etc;
l Optimum thermal design to protect vacuum-seal parts as well as operators;
l All parts compatible with the requirements of semiconductor industry;
l Multiple deposition modes for various requirements;
l Friendly operation interface based on desktop computer.
Coating materials:
Metal:Ru, Pt, W, Ni, Fe ...
Nitrides:TiN,AlN,Zr3N4,Hf3N4,WN ...
Oxides:HfO2,SiO2,ZnO,ZrO2,TiO2,Al2O3,La2O3,B2O3,Gd2O3 ...
Compounds:SrTiO3,BaxSr1-xTiO3(BST),PbZrxTi1-xO3(PZT),YBa2Cu3O7(YBCO),ITO ...
For additional product information and pricing contact our specialists at sales@plasmatechnol.com.