Pulsed Filtered Cathodic Arc Source
Cathodic vacuum arc source is an intense source of highly ionized plasma, where the arc current can be up to above 300A, ideal for depositing and implanting different elements into a surface. With incorporation of macroparticle 90o curved filter, the almost fully ionized plasma guided by electromagnetic fields, it is currently used for reactive deposition of defect and pinhole free, dense, protective, or decorative coatings as well as nano-structured, nano-composited and multilayer thin films , such as TiN and TiAlN, Zr3N4, TiCN., ZnO, HfO and so on.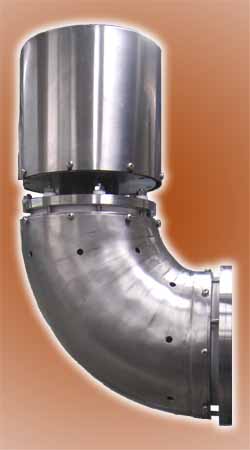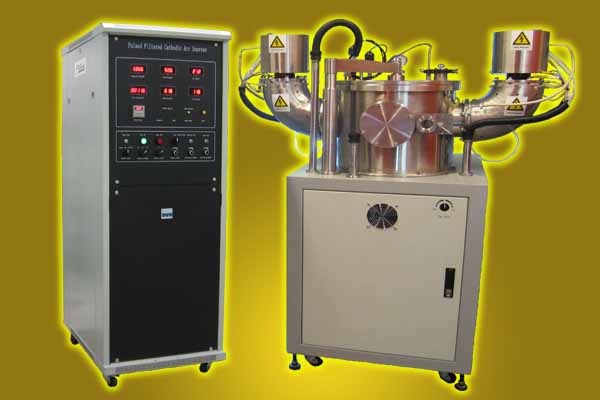 Plasma Technology Limited can provide the Pulsed Filtered Cathode Arc Source with the following special features:
Pulse-to-pulse control by pulse counter and fixer so as to timing the process by pulse number

Controllable plasma output for ultra thin film deposition

Remote control of pulse discharge so that it can be synchronic operated with specimen bias voltage for ion implantation and deposition
---
Main Features:
Pure Metallic Ion Beam Deposition / Implantation

Innovative Cathode/Anode Design

produce stable pulse arc and plasma beam

Stabilize arc discharge and improve cathode erosion performance

counting successful arc and matching the selected parameters

fine control of deposition process

Adjustable Plasma Beam Output

precise control of deposition thickness

Room Temperature Deposition

---
Applications:
Functional coatings:
Industrial drills coated with TiN have high surface hardness and long service lifetime.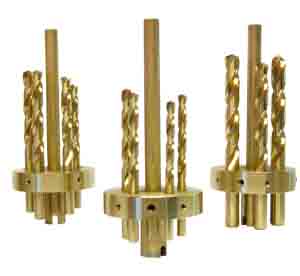 Microelectronic materials fabrication:
Nitrided ZrO2, which has high crystilline temperature and good interface, is used as high-k dielectric gate oxide for C-MOS.
Biomaterials enhancement:
PVC with embedded Cu nano-dots has high degree of antibacterial property and long service lifetime.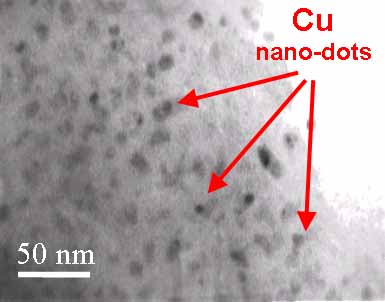 ---
Why Pulse ?
Peak power can be orders of magnitude above DC value

Obtaining new parameters for process control such as pulse width, pulse frequency, pulse number and ion energy range to obtain different film microstructures........

As a pure metal ion implantation ion source when operated with high voltage pulse bias

Higher arc discharge voltage and current induce higher ionization rate. (

>

50V, >

400A)

Creating

greater atomic excitation of reactive gases and higher degree of dissociation in molecular species resulting in excellent reactive deposition

Lower cathode temperature reduce of macroparticle production
---
Technical Specifications:
Cathode Dimension:

F

10 mm x 30 mm.

Electrically push in and out by cathode adjustor

Discharge Pulse Duration: 0.2 - 5 ms. Continuously adjustable.

Pulse Frequency: 0-50 Hz. Continuously adjustable.

Filter: 90o electromagnetic filtered

Pulse Selector: pulse-to-pulse to count arc discharge and control the

process

Duct: Compatible to the flange on buyer's chamber

1 BNC input port for external trigger signal

Removable stainless steel foil for the inner wall of duct

Stainless steel mechanical shields to cover source head and duct

Input of Power Supply: 3-phases 380V

, 50/60Hz, 60A

Cabinet dimension: 1600 mm x 600 mm x 800 mm.
---
Existing Customers
CTM Centre Tecnologic, Manresa, Spain
LMU Munich University, Germany; Research Highlight
NTU Nanyang Technological University, Singapore
CityU City University of Hong Kong, Hong Kong, China
HIT Harbin Insititute of Technology, Harbin, China
CAS Insititute of Ceramic, Shanghai, China
Peking University, Beijing, China
---
Related Scientific Articles:
T. Zhang, Y. C. Zhang, P. K. Chu, and I. G. Brown, "Wall Sheath and Optimal Bias in Magnetic Filters for Vacuum Arc Plasma Sources"

, Applied Physics Letters, vol. 80, no. 3. pp. 365 - 367 (2002).

X. B. Tian, R. K. Y. Fu, and P. K. Chu, "Effects of Bias Voltage on the Corrosion Resistance of Titanium Nitride Thin Films Fabricated by Dynamic Plasma Immersion Ion Implantation", Journal of Vacuum Science & Technology A, vol. 20, no. 1. pp. 160 - 164 (2002).

X. B. Tian, L. P. Wang, R. K. Y. Fu, and P. K. Chu, "Bias Voltage Influence on Surface Morphology of Titanium Nitride Synthesized by Dynamic Nitrogen and Titanium Plasma Immersion Ion Implantation and Deposition"

, Materials Science & Engineering A, vol. 337, no. 1 - 2, pp. 236 - 240 (2002).

T. Zhang, P. K. Chu, R. K. Y. Fu, and I. G. Brown, "Plasma Transport in Magnetic Duct Filter"

, Journal of Physics D: Applied Physics, vol. 35, no. 24, pp. 3176 - 3180 (2002).

M. Zhu, P. Chen, R. K. Y. Fu, W. L. Liu, C. L. Lin, and P. K. Chu, "Formation of Silicon on Plasma Synthesized Aluminum Nitride Novel Structure by Ion Cutting", Journal of Vacuum Science and Technology B, vol. 22. no. 6, pp. 2748 - 2753 (2004).

R. K. Y. Fu, Y. F. Mei, G. J. Wan, G. G. Siu, P. K. Chu, Y. X. Huang, X. B. Tian, S. Q. Yang, and J. Y. Chen, "Surface Composition and Surface Energy of Teflon Treated by Metal Plasma Immersion Ion Implantation", Surface Science, vol. 573, no. 3, pp. 426 - 432 (2004).

A. P. Huang, R. K. Y. Fu, P. K. Chu, L. Wang, W. Y. Cheung, J. B. Xu, and S. P. Wong, "Plasma Nitridation and Microstructure of high-k ZrO2 Thin Films Fabricated by Cathodic Arc Deposition", Journal of Crystal Growth, vol. 277, no. 1 - 4, pp. 422 - 427 (2005).

R. K. Y. Fu, S. C. H. Kwok, P. Chen, P. Yang, R. H. C. Ngai, X. B. Tian, and P. K. Chu, "

Surface Modification of Cemented Carbide Using Plasma Nitriding and Metal Ion Implantation

", Surface and Coatings Technology, vol. 196, no. 1

-

3, pp. 150

-

154 (2005).

R. K. Y. Fu, Y. F. Mei, M. Y. Fu, X. Y. Liu, and P. K. Chu, "Thermal Stability of Metal-Doped Diamond-Like Carbon Fabricated by Dual Plasma Deposition", Diamond and Related Materials, vol.

14, no. 9, pp. 1489

-1493 (2005).

T. Qiu, X. L. Wu, R. K. Y. Fu, J. Y. Fan, L. W. Yang, P. K. Chu, and G. G. Siu, "Mo-Containing Diamond-Like Carbon Films with Blue Emission", Journal of Crystal Growth, vol. 281, no. 2 - 4, pp. 538 -542 (2005).

A. P. Huang, L. Wang, J. B. Xu, and P. K. Chu, "Plasma Nitridated High-k Polycrystalline Array Induced by Electron Irradiation", Nanotechnology, vol. 17, no. 17, vol. 4379 - 4383 (2006).

W. Zhang, Y. H. Zhang, J. H. Ji, J. Zhao, Q. Yan, and P. K. Chu," Antimicrobial Properties of Copper Plasma-Modified Polyethylene", Polymer, vol. 47, no. 21, pp. 7441 - 7445 (2006).